Ultra Slick Laptop and iPad Sleeves are Golf Belles Recommended
Still looking for that perfect gift? These stylish and oh-so-cool laptop and iPad sleeves are sure to please!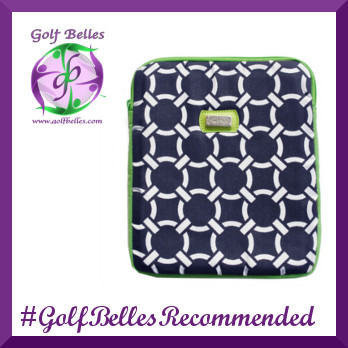 Ame & Lulu sleeves are a stylish way to keep your laptop or iPad safe. Includes an exterior zip pocket for additional storage.
Kiki Golf Leather iPad Cases: Inspired by beauty of geometrics, stylish fashion-forward iPad case is the complete package. It's even a case that male friends bank on. Shopping for a guy is tough so choose a design with unique contrasting colors for even the most discerning eye. I guarantee you that no one has anything like it! Each square is delicately stitched into the checkerboard pattern. Talk about convenience, take pictures, listen to your favorite songs, and charge the iPad all without removing it from your case! The top flap folds under allowing the case to become a stand in two different positions.
Visit Golf4Her Laptop Sleeves to browse selections available!