SUPER SIZE YOUR DRIVES WITH SUPER FRUITS
Being from Canada and with summer on it's way, I really miss the availability of Wild Blueberries at this time of year here in California.
I was genuinely pleased to come across a high quality, healthy product called INDIBLUE JUICE, and decided to share this fabulous tasting drink with you. Indiblue Juice is a mixture of pure Wild Blueberries, Organic Coconut Water and a splash of Grape Concord. Kids go wild over it!! There are plenty of recipes and ways to use Indiblue Juice to add variety if you prefer, but it is very refreshing as is straight from the bottle.
There are many, many super fruits on the market. Blueberries, acai, pomegranate, and goji- berries to name a few. All of them have their benefits but wild blueberries are the ultimate antioxidant super fruit, with immune strengthening vitamins and minerals. Wild blueberries unlike the other super fruits have adaptogenic properties, helping you to feel balanced and strong. Two things we all want to feel in our golf swing. Wild blueberries are resilient and have an incomparable ability to adapt to extreme conditions. This allows them to maintain their antioxidant properties more so than the other super fruits.
Wild blueberries contain powerful antioxidants and polyphenols that: help reduce inflammation, protect the body from damage by free radicals, benefit cognitive and neurological health and support the cardiovascular system.
Parents love Indiblue Juice because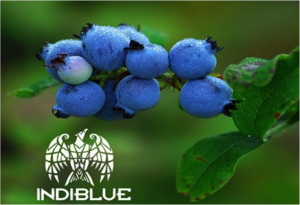 it's pure and natural, but they love it even more because their kids love something so healthy!
It makes for amazing frozen treats,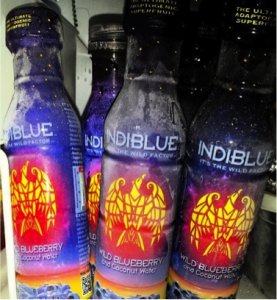 either as a popsicle or just freeze a bottle and take it with you for a thirst quenching slush as you head to the beach or the golf course!
There are many great tasting recipes so you can have a variety of ways to drink it. Here are a couple of my favorite recipes that are a perfect treat!
INDIBLUE SMOOTHIE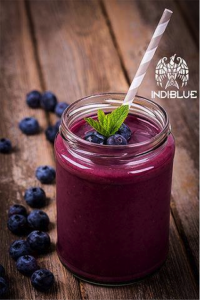 Ingredients: 2-3 bananas, 1 cup Indiblue Wild Blueberry Juice, 1 cup Wild Blueberries, ice Blend all ingredients until smooth in a blender.
Enjoy!
INDIBLUE WILD BLUEBERRY COCONUT ICECREAM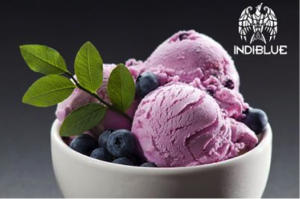 Ingredients: 3 cups coconut milk, 2 cups frozen wild blueberries, ¾ cup Indiblue Wild Blueberry Juice, 3-4 tbsps raw honey.
Place all ingredients in blender, blend until smooth. Then pour mixture into icecream maker and follow manufacture's instructions.
Top with fresh wild blueberries or nuts and enjoy!
I have yet to make it to my local market when they get a small shipment of Wild Blueberries, they are gone the moment they reach the shelf. They are definitely easier to find back home in Canada in Alberta and British Columbia. So to satisfy my love for Wild Blueberries my cupboards are stocked with cases of Indiblue Wild Blueberry Juice.
For more information and amazing recipes, visit my friends at www.indiblue.com!
Michelle Sheptak is a contributing writer for Golf Belles Central and is a Long Drive Competitor, Surfer and ER Nurse. She will be sharing her knowledge on golf, surf and fitness here on www.golfbellescentral.com
Follow her on Facebook, Instagram and Twitter and watch for her in her competitions this year!
http://longdrivergirl.wix.com/michelle-sheptak
Facebook: www.facebook.com/michelle.sheptak
Instagram: michellesheptak
Twitter: @msheptak
Vimeo: http://vimeo.com/user27211999
YouTube: https://www.youtube.com/user/michellesheptak
www.hookit.com/members/michellesheptak

Follow the Golf Belles and all of Michelle's articles at: