Isaac Mizrahi Tote Bags are Golf Belles Recommended!
Think "Timeless, Cosmopolitan, and Luxurious" and SPORT Isaac Mizrahi will come to mind!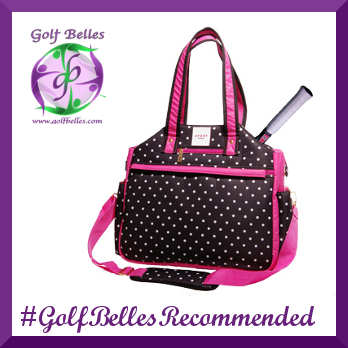 This what Karen Lovcik from Glove It has to say about these fabulous tennis totes! –
"Fashion is not lost in the functional SPORT Isaac Mizrahi tennis tote! Not only is it great on the court but can be used as a gym bag, for travel, and school.  There is plenty of room for all your accessories as well as two tennis racquets. The tennis tote comes in four fun prints named after the native New Yorker, Isaac Mizrahi's, beloved city; Chelsea – Quirky Black & White Dalmatian with poppy red accents, Manhattan – Timeless Black & White Classic Dot trimmed in passion pink, Hamptons –Chic Pink and Tangerine textured color combo, and Tribeca– Hip mix of scaled Cobalt and deep mint geo circles.  Arrive to the courts in style with this luxurious tennis bag!"
SPORT Isaac Mizrahi can be found in fine clubs, resorts and specialty golf facilities or on line at www.gloveit.com.
Remember to enter golfbelles in the coupon box for a 10% discount!
For more #GolfBellesRecommended items, visit 30 Days of Golf Belles Christmas.