The Importance of Keeping Your Cool on the Golf Course
By Jennifer Harris, Contributing Guest Editor, High Heel Golfer
Golf is a pretty challenging sport: not only do you have to have a great swing, but there are hundreds of rules spoken and unspoken alike. However, you will find that the most honorable thing a man or woman can do is keep his or her cool on the course when having a horrible round.
This concept was reintroduced to me while playing a round with my Pops and his golfing buddies the day after Christmas. The men in this group all shoot in the 70s and 80s; to see a meltdown like the one I witnessed on Monday is a rarity.
The level of play for my partner Johnny began with a few slices and duck hooks but progressed to full out duffs off the tee. Most men playing as poorly as Johnny would have felt humiliated. I could see the impending slew of curses and flying clubs at every hole. But Johnny kept his cool.
He may have shook his head a few times in disappointment and vowed that he would burn his sweater and new office putting green when he got home, but that was the extent of his "temper tantrum."
Johnny is a man whose behavior exemplifies the true and honest golfer we all strive to be. He is also a man I would want to do business with. He keeps his cool under pressure and never gives up. He played each hole to completion and kept his head held high.
Many people believe that you can only play business golf if you are a great golfer, but this is just a myth. Business golf is just as much about enjoyment of the game as it is about getting to know your golfing partners. The way a person handles a tough round of golf on the course is a reflection of how they will handle a tough business situation. Playing well and enjoying a great shot is not as much of a telling sign of a good business partner as is dealing with a horrible shot or an awful round. Remember to keep your cool on the course as it ALWAYS reflects back to how you handle yourself in the office environment.
About Jenn Harris & High Heel Golfer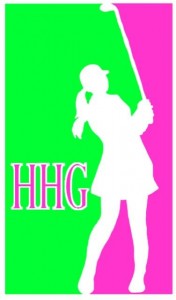 Hey Yall – I'm Jenn Harris founder of Highheelgolfer and lover of all things golf. At Highheelgolfer.com we want to help you break the glass ceiling as you rise up the corporate ladder. Professional women tend to overlook the importance of golf as a networking tool or just write it off as an arena that is off limits to women. Why do women do this if the majority of top-level executives play golf, and do so for professional and personal advancement?
Does playing golf really make a difference? We at Highheelgolfer believe it does and any woman aiming for a senior management position can't afford not to play.
Just picking up a club and showing up at the next corporate outing is unfortunately not going to do the trick either. There are countless rules of etiquette, fashion, and pace of play that if not followed can take professional women down a few rungs of the ladder.
Highheelgolfer.com's mission is to help women get ahead in business via golf. On our site you will find videos, pod casts, and articles that will aid you on your journey to becoming one of the top executives in your field.
We believe that if you follow our new golf and business strategy you will find your self, talking to executives, coworkers, and clients that before discovering Highheelgolfer would have been impossible.
If you are one of millions of professional women who are struggling to find their in with the top execs – I urge you to check us out.
Check out https://www.facebook.com/Highheelgolfer and Twitter http://twitter.com/highheelgolfer