Golf Pre-Round Warm Up Routines – Lower Your Score & Make It Count!
Whether you are playing in The Masters Tournament or are playing in your local Club Championship everyone should have a pre-round routine. It's strategic and it will help with your game.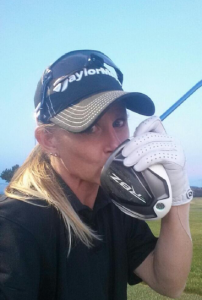 When you are standing on the first tee you may find you have a better result and set yourself up for a better round, if you visualized that first drive while warming up on the range. Or you may sink that first putt with more confidence because you spent a few minutes getting the feel of the greens for the day. When I am warming up for a game or a competition, I try to do the same things I would do on a normal day and practice the way I want to play. I simulate my warm up at practice the way I would warm up before an event. I also experiment with it a little.
If I am running late for practice or for a game, instead of rushing to get to the course, I reset my thinking that my warm-up will now be the same but for shorter amount of time, because no one is changing the tee time for you when you are running a little behind time. And even if my round or practice was not my best, I always show some ? love ? to my driver at the end of every practice.
It is the club that starts off my next round, so superstition or routine, I do it every single time.
I like to do some cardio and get things moving before I practice, so I also try to do the same on game day. I try to keep my routine the same and when you are travelling and staying in hotels and need to make things feel as normal as they do at home, practicing the same routine is important. If you listen to music when you warm-up at practice, then listening to music and even those same songs can help put you back in a relaxed mind set, help you visualize that last great practice. I always have my iPod on right up until the moment I am called to the tee. I was recently at the KIA Classic and it made me smile to see Paula Creamer pull her iPod out of the back of her shirt less than a minute before she walked onto the first tee. Finding a routine and sticking with it calms the nerves and prepares you for a good round of golf.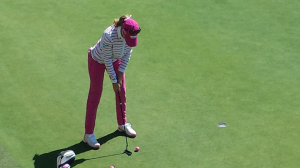 Are you like Miguel Jimenez as seen at the Masters this week?
Do you like to avoid the crowds like Nick Watney? He avoids the crowds at the driving range and heads to the practice green first. When everyone clears the range then he practices there. This has worked for him since he began this routine in University. Are you relaxed and more at ease like Rory McIlroy? He likes to go to the gym and get on the treadmill for a light warm up and stretch, then eats and gets to the course one hour before tee time.
Or, do you have your pre-game routine down to a science like Zach Johnson? Who allows exactly 50 minutes to warm-up before his tee time.
It's not just the men on tour who have a nice little routine, in fact most athletes have some sort of routine they like to stick to. Whether it's eating the same breakfast, eating the same time before you play, or sleeping in if you play in the afternoon, if that's what you do at home that's what you should try to do when on the road or before your important event or round of golf.
Some players on the LPGA have some great routines as well. Stacy Lewis spends the first 15 minutes putting then hits balls for the next 20 minutes before a round. If she has an afternoon tee time she will put some time in the gym for a warm up before playing.  Anna Nordqvist likes to do the same thing in the same order. She warms up with the same clubs, in the same order and starts on the putting green, moving to the range to hit then to the chipping area.
(www.golfdigest.com)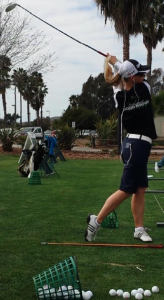 What I have found helpful through the years is to keep my pre-game routine relaxed, keep it short and let the hours of practice kick in. This isn't the time to work on the mechanics of your swing. Trust that the hours you put on the range before hand will come together.
Take a deep breath, relax and have fun!
Michelle Sheptak is a contributing writer for Golf Belles Central and is a Long Drive Competitor, Surfer and ER Nurse. She will be sharing her knowledge on golf, surf and fitness here on www.golfbellescentral.com
Follow her on Facebook, Instagram and Twitter and watch for her in her competitions this year!
Facebook: www.facebook.com/michelle.sheptak
Instagram: michellesheptak
Twitter: @msheptak
Follow the Golf Belles and all of Michelle's articles at:
www.golfbelles.com