Golf Belles Golf Fashion Vivacity Sportswear Style Review No Tee Time
Vivacity Sportswear Women's Golf Fashion and Style,  Does this make my Butt look Big???
Golf Belles have been tracking Vivacity Sportswear since they burst on the market in Southern California a couple of years ago.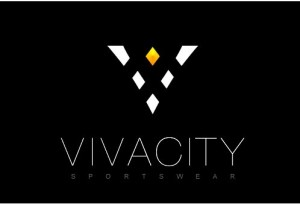 They have some exciting new lines and are one of the newest golf style leaders in the women's golf marketplace, sorry guys.
Led and founded by Vivan Sayward with the mission 'To create well-crafted, sophisticated sportswear with the means and motivation to lead a busy, exciting lifestyle'.  We agree that Vivan has created a line and style that lives up to her company mission.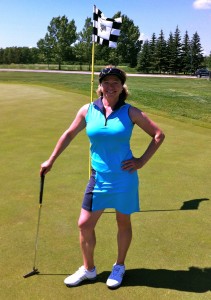 I had the opportunity to play in and review a wonderful outfit last week that didn't make my butt look big ;).
I was able to check out and play in the Danica sleeveless zip top — the easy fit and fun colors make it the perfect summer companion along with the versatile Chloe Skirt with a sexy side (but not too much) zip showing just the right amount of leg, while keeping your focus on the game. Loved the outfit, from the quality of construction to how it fit an athletic body to the materials and the style, it was all first class.
Check out all of their fabulous women's golf clothing at http://www.vivacitysportswear.com
One thing that was a refreshing change from what all the designers seem to think that all women golfers are either 6'2″ tall with 38 inch inseams (we are not), was that the Vivacity skirt construction allowed me to determine the the length. I chat about this in the video.
I hate the new golf skirt style out today that forces the knees to be covered, I am not my grandmother and she would never wear that length of skirt either!

WOMENS GOLF DESIGNER ALERT, if you want to continue to loose market share to running/yoga/workout and tennis clothing designers then keep making the 17 to 19 inch length versus the 13 to 15 inch length for shorts, skorts and skirts that every other sport stylist designs for.
Here is the video

Back to the Blog at hand, Vivacity rocked due to the quality, lines and the ability to move the hemline, loved that.
Take a look at their Look Book and you will see all of their awesome designs.
Enjoy the video review http://youtu.be/cefXqKWF1SY
We look forward to following the latest and greatest from Vivacity Sportswear and our next review, perhaps a dress. Hint hint!
Their Facebook Page can be found at https://www.facebook.com/vivacitysportswear?fref=ts
Stay golfing everyone and do us a favour and pass the review on!
Susanita
Chief Executive Belle
No Tee Time
Golf Belles
http://www.golfbellescentral.com
Check the video at  http://youtu.be/cefXqKWF1SY
Golf Belles, No Tee Time, Women's golf fashion and style reviews
Learn more about Golf Belles services at http://tinyurl.com/PreziGetToKnowGolfBelles
Follow Golf Belles everywhere
http://www.golfbelles.com
Visit us on Facebook at http://www.facebook.com/golfbelles
Check out our Golf Belles Central
media portal at http://www.golfbellescentral.com
Tweet us at http://www.twitter.com/golfbelles
Watch us at http://www.youtube.com/golfbelles
Check our Pins at http://pinterest.com/golfbelles
Google+ http://tinyurl.com/GolfBellesGooglePlus
Learn more about Golf Belles services at http://tinyurl.com/PreziGetToKnowGolfBelles
More about Vivacity Sportswear
Website http://www.vivacitysportswear.com
Twitter https://twitter.com/VivacitySport
Facebook https://www.facebook.com/vivacitysportswear
Transforming the look of golf with luxe, feminine sportswear that stylishly transitions from course to street to clubhouse.
Vivacity Sportswear creates modern, elegant golf and resort attire for the sophisticated woman who likes to play and live beautifully. The collection combines performance wear with the best fashion trends. Flattering silhouettes are played out in tops and bottoms designed to comfortably go from course to street to cocktails. Luxe details such as Swarovski crystal detailing and sheer sleeves celebrate a woman's love for accessorizing, while soft, silky performance fabrics honor the modern woman's demanding lifestyle.
VIVIAN SAYWARD
PRESIDENT, VIVACITY SPORTSWEAR
MY PRE-GAME RITUAL: At least one downward dog…
MY FAVORITE DAY: During the summer, I'd start with an early morning swim at La Jolla Cove, followed by a creative session working on fun new designs with the Vivacity team. Of course, I'd squeeze in some time on the golf course with a BFF then dinner under the stars with my other best friend – my hubby.
ON MY WISHLIST: A trip to Africa, where I'd work with a nonprofit group helping women start their own businesses through microfinance efforts.
WHAT I'M WEARING TODAY: Our panel skirt in black. It's truly one of the most comfortable pieces in my entire wardrobe…and it always looks great. I recently wore it during a whirlwind 18-hour day – I left
my house at 6 a.m. for a flight to Las Vegas, had meetings all day and didn't get home till midnight. The skirt literally looked as if I had just taken it off the hanger even after more than a full day on the go!
MY MOTTO: Carpe diem! But remember to take a moment to breathe while you're at it…