First Outfit for a Beginning Female Golfer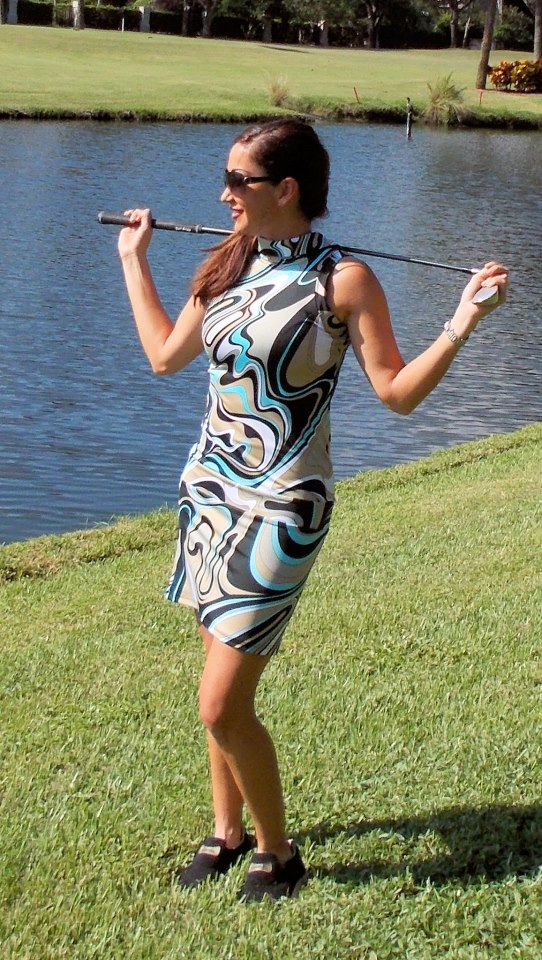 There is an art to dressing for an outing of golf. The first outfit for a beginning female golfer does not need to be timid. A woman wants to look as good on the course, as she does when going for an evening out. After all, what is golf but a fun time out with the girls? However, while a woman wants to dress as though she belongs on a golf course, she doesn't want to look as though that's the only place she belongs. There is a phrase one should bear in mind when considering their golf apparel: form is temporary; class is permanent. Nobody wants their first golfing outfit to look like it was stolen from The Brady Bunch reunion show, nor look out of place on the course. Here's a few ideas to get you started:
Dresses
Breathable fabrics and fashion forward trends in golf dresses make them timelessly stylish, and a perfect pick for a first outfit on the greens. In fact, many dresses for women's golf apparel can seamlessly transition from the course to cocktail hour without screaming "golf course attire." There's no need for a lady to show up to her tee time in a pantsuit looking like she's about to start handing out campaign brochures for the next political race. Show off your feminine style for your first time on the course- your game may not be the best at your first outing, but that doesn't mean your fashion-sense should suffer.
Hats
A woman shouldn't have to look as though she had to borrow her husband's Calloway hat before making tee time. These women's golf caps are the epitome of femininity. They show a playfulness along with the ability to ice a putt from fourteen feet. Bring out your favorite color in your outfit by topping it off with an accentuating hat. Hats are also a great way to block damaging UV rays of the sun, and glare that can seriously impair your putting judgment.
Mix and Match
Tops and bottoms go hand in hand like chipping and putting. There are places that specialize in women's golf clothing. With the right tops and bottoms, a woman will look like she can hold her own on the course, as well as on a fashion runway. You may not be a golfing superstar yet, but golfers on the course will think you are when you arrive! One word of advice when choosing your outfit, don't go with the most popular outfit on the market. Picking the most mainstream brand's most popular outfit will land you in a sea of outfit replicas on the course. Do some digging and find some golf apparel companies that are not the majority's go-to, and then find some outfits that express your personal style.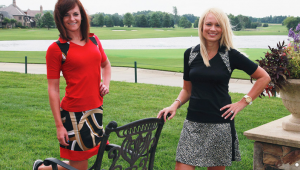 Golf is an intriguing game. That is a nice way to put it. Once people start playing, they will usually find more suitable phrases to describe the game of golf. However, the first outfit for a beginning female golfer should have all of the class as the lady wearing it. However important the golfing outfit is, however, women should bear one thing in mind: "dress for success" only goes so far. On a golf course, "practice for par," should complete that old saying.