Does Your Golf Attire Show Respect For The Game?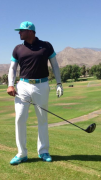 "The sport shirt with the straight collar: That's very important. It takes the sloppiness out of
things. I'm an advocate of the unwrinkled straight collar shirt, creased pants, shined shoes. All of those things are, I think, key to dressing with an emphasis on neatness. Golf is about precision."
–Arnold Palmer-
The last word of this quote by Arnold Palmer resonated with me. PRECISION. Indeed, golf is a   game of precision. If you are precise with how you dress, one might assume you also play with precision.
I was recently competing at Canadian National Championships and REMAX World Long Drive Championships and soon will be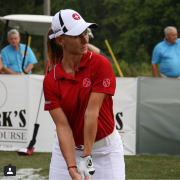 off and running to Dominican Republic for the International Long Drive Team Championships (the Ryder Cup of Long Drive) and all of this got me thinking about golf and fashion. Whether I am going to practice or to a competition, I dress with respect for the game. What does this mean you ask?
In the most universal terms, there is a dress code for golf and this is to uphold the professionalism, etiquette and history of the game.
Is the message here that if you dress well you will practice or play well? No, but it's definitely a good start! By nature we often react to how we feel. If you feel good, in general you will do good, be good, and do good things for others. And the opposite is true, if you feel bad you most often find yourself not making good decisions, and get in a rut and not the get the course record you hoped for that day.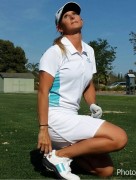 So is it fair to say, when we look good we tend to feel good, both inside and out about ourselves, and when we look good we also tend to feel good about ourselves both inside and out. I believe this directly correlates to how we play on the course. Dress good, feel good, practice good, play even better!
I always dress with respect for the game and dress the same whether it's a day of practice, a competition or a fun charity event. My dress code never waivers. And that is what the greatest players in the history of golf and of our present day and time have taught us. Whether the etiquette and dress code of golf was handed down to you from your ancestors that loved and played the game, or was illustrated to you by the greats of the game, one thing that has remained the same is the dress code, which honors the history of the game.
In modern day golf, there are fabulous fashions in golf and there are numerous brands creating new styles, colors, and materials to keep us comfortable. We have much since surpassed the styles of Bobby Jones and Babe Didrikson Zaharias, however the staples of dress code remain the same at Country Clubs and Golf Courses world wide. This is all to honor, preserve the history, and show respect for the game.
I think of the heroes of our game, before and during my time. I don't ever recall an image of Bobby Jones, Arnold Palmer, Jack Nicklaus, Tiger Woods or Rory McIlroy while they were in a tournament where they weren't dressed well and respecting the game they all love. The same holds true for the outstanding women in golf. Styles have drastically changed from the days of Eva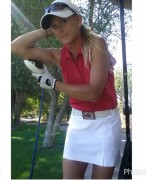 Gardner, Babe Didrikson Zaharias to the Nancy Lopez's, Annika Sorenstams' and Paula Creamers' of our time, but I have never seen a photo of any of these women while playing golf that is anything but classy and displays respect for the game. Golf fashion dates back to as long as both men and women have played the game.
Does this mean you must go out and buy all the latest styles, color and fashions and that if you don't have the latest and greatest you are disrespecting the game? Certainly not, and going back to Arnold Palmers' quote at the opening of the article, simple etiquette, taking care to dress, pressed pants and shirts, clean golf shoes, shows respect for the game. You can be well dressed and respect the tradition of the game without feeling the need to buy all the latest and greatest golf attire. Simple things like taking care and give attention to how you dress, shows as much respect for the game as the player that dresses well and has all the newest styles and colors. I dress almost routinely the same way in skorts, golf shirts with collars, a nice belt and hat and always make sure my golf shoes are wiped down and clean. The fact that my favorite pair of golf shoes for competition are indeed 7 years old, doesn't mean I disrespect the game, but I make sure those same shoes are wiped, polished and ready for the next time without fail. A good friend of mine, who was taught the game by his father, also learned his golf dress code from him. No matter how hot the temperatures are he always is in neatly pressed pants, a hat, a golf shirt with collar and a belt and clean golf shoes.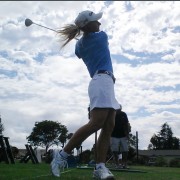 For both men and women companies are constantly creating new items to improve upon our style and comfort when playing the game, but regardless of the main golf brand you buy they all offer precision made clothing to help us look good, feel good and play good.
Typically when we follow the dress code and etiquette of golf, we are probably also someone that will stay true to ourselves and others, on and off the course and have respect not only for the history, but also for the game of golf.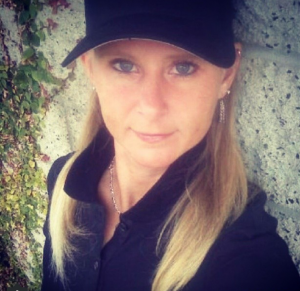 Michelle Sheptak is a Long Drive Professional, Surfer and an Emergency Nurse.
She competed at Canadian Nationals, REMAX World Long Drive Championships and is on her way to Dominican Republic to compete with Team Canada in the International Long Drive Team Championships.
You can follow Michelle on her website or on any of her social media accounts below.
www.longdrivergirl.wix.com/michelle-sheptak
www.instagram.com/michellesheptak
www.facebook.com/michelle.sheptak
www.hookit.com/members/michellesheptak
www.youtube.com/michellesheptak
Follow the Golf Belles and all of Michelle's articles at: