Catherine Wingate Golf Fashion Style Review Golf Belles No Tee Time
Catherine Wingate Women's Golf Fashion and Style,
Does this make my Butt look Big???
We are excited to introduce another awesome women's golf fashion designer to the Golf Belles community, Catherine Wingate. 
Catherine Wingate is a luxury brand of women's golf apparel that was created in Beverly Hills, California in 2012.
Their brand was founded on the belief that women golfers can be athletic and chic at the same time. What struck me most about the samples we tried was the comfort we experience on the golf course, both the skort and shirt were amazing in terms of fit and feel.
Of course the materials are high performance athletic fabrics and the style is something found at a high end Beverly Hills bistro. A must for everyones golf fashion and style portfolio.
The Pleated Skort is constructed in a micro poly with lycra fabric, a four-way stretch that contains a quick dry function to pull moisture away and quickly dry whenever it gets damp or wet. This fabric also has UV protection and antibacterial features.
The skort is amazingly comfortable with shorts built in and an elastic waist. A nice touch is that the pockets are a perfect depth and hidden in the pleats.
The 3/4 Sleeve Polo is made from the same material as the skort with an athletic fit that is comfy and flattering.
Golf Belles looks forward to seeing what  Catherine Wingate has in store for 2014 as we are sure it will be fabulous.
Stay golfing everyone and do us a favour and pass the review on!
Susanita
Chief Executive Belle
No Tee Time
A little more about Catherine Wingate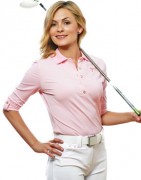 https://www.facebook.com/catherinewingategolf
https://twitter.com/CWingategolf
www.catherinewingate-apparel.com
Stylish women's golf apparel that can easily be worn from a round of golf to lunch at the clubhouse.
Catherine Wingate offers women's golf apparel that is both fashionable and practical. Our pieces are designed to allow women to be athletic and feminine on the golf course. We use wicking fabrics that pull moisture to the surface and quickly dry. Our fabrics also protect against harmful uv rays and bacteria. Catherine Wingate will have you playing and looking your best!